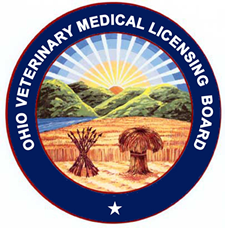 ---
Veterinary Renewals are due March 1, 2018
Click here for a renewal form.
The Ohio Veterinary Medical Licensing Board will not be accepting paper applications or renewals after April 1, 2018.

---
During the transition of instituting a new ELicensing system, the Board staff may be out of the office for extended periods of time.
Therefore, email is a preferable form of communication.
Please email info@ovmlb.state.oh.us.
---
Issuing a Valid Prescription - What Every Prescriber Needs to Know

---
77 S. High Street, 16th Floor
Columbus, Ohio 43215
614/644-5281 fax: 614/644-9038

New Screening Procedures for Visitors
All visitors to the Riffe Center must obtain a visitor badge at the High Street security desk, then proceed to the x-ray device and metal detector. All visitors and their belongings will be screened as they approach the elevator on the third level.

For questions, comments, or concerns:
email: info@ovmlb.state.oh.us